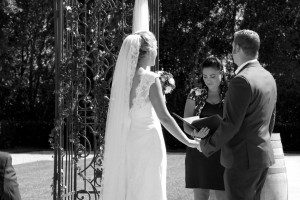 We were lucky enough to have Nikki as our celebrant for our wedding on March 1st. Nikki was incredibly helpful, ready to answer any questions and provided all of the information we needed. She had a lot of resources to aide us in preparing our vows, and was open to our ideas of how we wanted the ceremony to be. We felt very relaxed, and thoroughly enjoyed our ceremony thanks to Nikki. We wouldn't hesitate to recommend her to anybody looking for a well presented, organised, fun, relaxed and professional celebrant to guide them through their big day!  Thanks again Nikki!!!
Amy & Aaron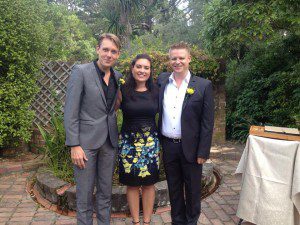 As we all know planning a wedding regardless of the size is stressful and a challenge, by choosing Nikki as our celebrant in the beginning of the process reduced this greatly. As we were planning our wedding from overseas her knowledge on the process and supporting information provided was fantastic. Her approach was honest while maintaining absolute professionalism especially when discussing difficult topics, for example who was or was not invited to our wedding. Nikki was relaxed and her approach on the day even though this was the first time we had met in person, was outstanding. Her presentation is excellent. Nikki is the celebrant of choice and she will ensure your day is as successful as ours was. One bit of advice which we forgot, invite Nikki to the celebration afterwards! Once again Nikki thank you!
Tim and Wayne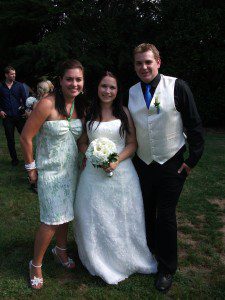 Having Nikki as our celebrant was lovely. She was so helpful in every way, right from the beginning & kept in constant contact through the whole planning process. It was nice to have someone that added a fresh approach but also was very professional. Thank you so much for making our day that much more stressfree & special.
Haylee and Blake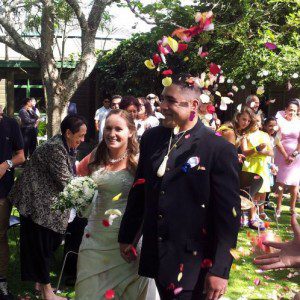 Nikki did a fantastic job as celebrant at our wedding. She was very professional in every aspect of our ceremony. She was very accommodating and understanding in allowing Emily and i to incorporate some things we had wanted to be part of our ceremony, while providing suggestions and information on things she had seen and done before which would make our ceremony unique and special. We are very greatful to Nikki that she was able to make our wedding ceremony everything we wanted it to be. Emily and i thoroughly recommend Nikki Stone to anyone looking for a celebrant for their wedding. Great job!!
Shaun and Emily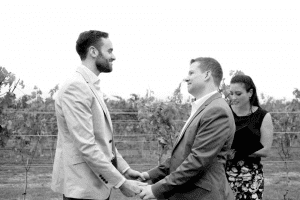 Nikki was fantastic as a celebrant, she made our wedding day much more relaxing than we were fearing which was what we needed! Neither of us were very confident about what we wanted to say with our vows but she had a bunch of resources available to give us ideas and get us going. She adapted everything to make it suitable and appropriate for a gay wedding. We got several comments from our guests about how great she was and how lucky we were to find her. I wouldn't hesitate to recommend her for weddings in future.
Dave and Gavin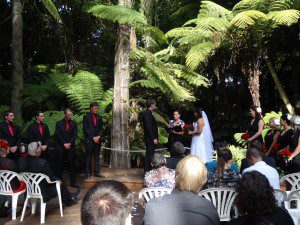 We used Nikki as our celebrant and were very happy with her. She was very organised and had lots of ideas to help with all my questions. Nikki was very professional but also very warm and friendly and helped us feel at ease on the day. I wouldn't hesitate to recommend Nikki!
Angelina and Rich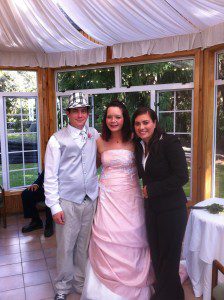 Nikki was an angel! The ceremony was beautiful, she kept in contact to make sure everything was going to plan.
Thanks for making our day just that more special!
Teraihei and Mark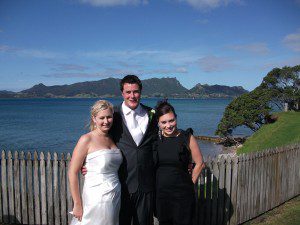 Nikki was amazing!! She kept constant contact up until the big day to make sure everything was still ok, and we were still happy! On the day and the day before she was so helpful and calming!! Made it all the more a special day! thanks so much!
Kate and Shane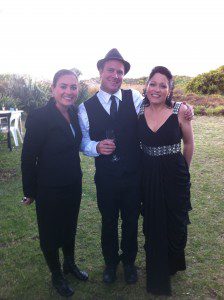 Nikki was fantastic, offered great ideas to come up with a ceremony that was exactly what we wanted. Nikki was extremely helpful and made it all too easy. Thanks Nikki!
Angela and Daryn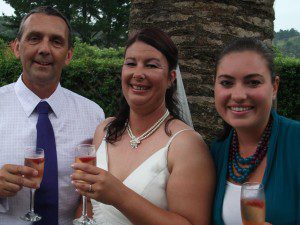 When Ruth and I decided to get married we went looking for a celebrant that would fit with ourselves and our extended family and friends. While we were not after a church based service we still wanted a service that felt right. This was incredibly hard to explain but something that Nikki got straight away. I found on our first meeting that we were both completely relaxed with Nikki and she walked us through everything really professionally. We blended our vows from a number of sources and Nikki worked to accomodate this. The day was superb, barring the weather, and Nikki's professionalism and presentation really did set the scene.  If anyone ever asks I would highly recommend Nikki, and have done so.
Greg and Ruth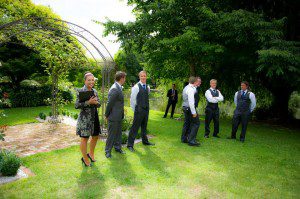 Thank you Nikki for being an amazing celebrant! Everything was really personal to James and I and we were so happy to have you marry us!
James and Courtney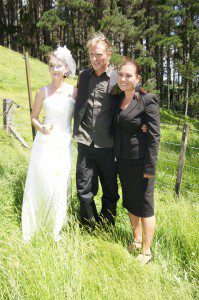 Thank You Nikki so much for marrying us!!!  It was an amazing day and Nikki did an amazing job!   She made it hassle and stress free for us and that much more enjoyable.   The wind picked up, the vows went flying, yet Nikki took it in stride and somehow made it add to the whole event - AWESOME!!!  Thank You again!
Rose and Luke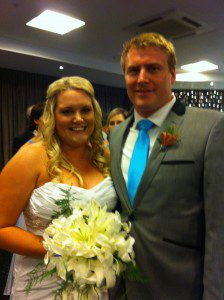 Our Wedding truly was the best day of our lives, and we are so grateful for all the work that Nikki did both in the lead up as well as on the day itself.  We live overseas, so all of our communication was via email.  Nikki always got back to us within a day, and from writing our Wedding vows to filing for a marriage licence from overseas – she was so helpful and accommodating.  On the day itself it poured with rain, but Nikki took moving the ceremony venue all in her stride and went above and beyond what was expected of her to help the boys get the indoor ceremony set up in time.  I would highly recommend Nikki as a marriage celebrant – my sister was so impressed that she has booked Nikki for her Wedding next year!
Kelly and Darren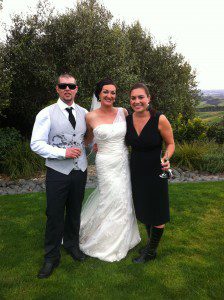 Nikki was well organised and beautifully presented when it came to our wedding day.  She helped us with ideas and suggestions to help the ceremony flow and was encouraging of our ideas which helped acheive a day unique to us and complementary to our personalities. If you want a celebrant that is fun, relaxed but at the same time very professional I would certainly recommend her to you.
Thank you so much Nikki, our day was wonderful which flowed on from a beautiful ceremony and we couldn't be happier! xxx
Kelly and Nathan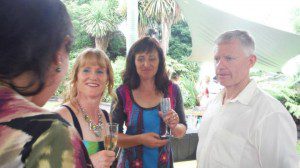 We renewed our vows after 15 years of marriage and we were lucky enough to have Nikki available to preside over the day. She was just awesome. Nikki arrived early to make sure all the details were in order and if anything needed a last minute change, and then moved through some of our guests making everyone feel really welcome. What a treat it was to have her there. It just set such a lovely day on its way beautifully. She has her own style which just gets rid of the nerves and her humour and down to earth attitude makes it so perfect. I wore bare feet so she took that as a cue and whipped her shoes off as well just to get in the swing of the day. Classic!!!! We would recommend Nikki for any ceremony actually, and not just a wedding.. She is brilliant..
Simon and Charmian Ward